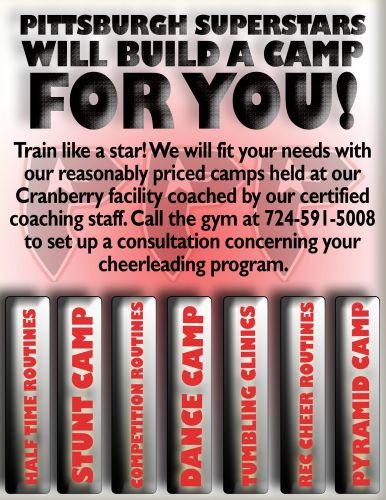 Pittsburgh Superstars Expands!
Announcing the opening of our second Pittsburgh Superstars location in State College, PA!
For more information about our new State College location, contact
TJ Banas at (412) 916-3591 or at banastj@yahoo.com
---
Contacts:
Aimee Saffle-Nicewarner
ansaffle1@gmail.com
(304) 838-1120
Cranberry Gym: (724) 591-5008
TJ Banas
banastj@yahoo.com
(412) 916-3591
State College Gym: (814) 954-7542
Find us on Facebook!

GYM ADDRESSES:
Cranberry Gym:
405 Commerce Park Drive • Cranberry Twp., PA 16066 • (724) 591-5008
State College Gym:
320 Struble Rd. • State College, PA 16801 • (814) 954-7542
---
Please mail ALL correspondence to the following address below (NOT the gym address):
Aimee Saffle-Nicewarner • 314 Butler Drive • Morgantown, WV 26508