SUMMER, 2016
Choreography -- July 22-29, 2016 (Supermodels TBA)
Hot Shot (Mandatory Supermodels) -- June 26-29, 2016
Top Gun Tumbling Camp -- June 10-12, 2016 ($350)
Team Superstar Camp -- June 13-16, 2016 (Mandatory, $50)
---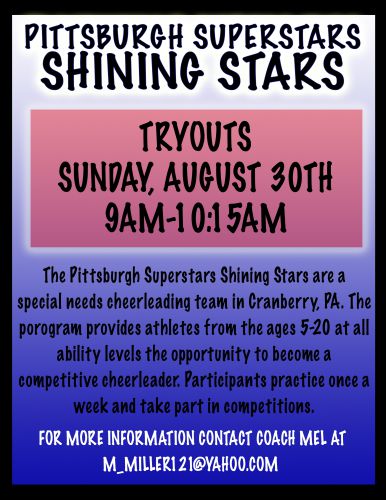 MONDAY TUMBLING CLASSES! ALL ARE WELCOME!
CRANBERRY LOCATION
$25 Annual Registration Fee, $50 Per Month
5pm - 6pm : Levels 1-2 (No experience necessary)
6pm - 7pm : Level 3 (Must have solid series backhandsprings)
7pm - 8pm : Levels 4-5 (Must have solid standing tuck, multiple handsprings to tuck, and layout)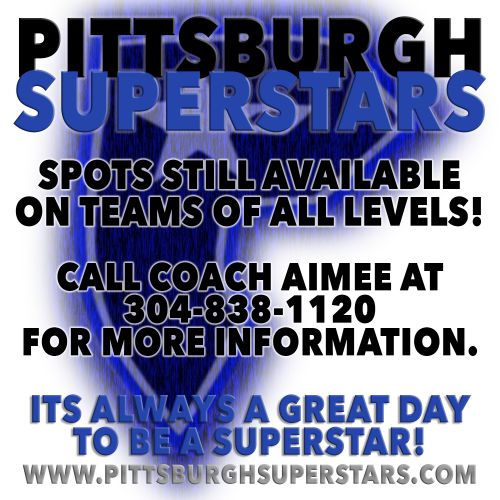 ---
NEW! PITTSBURGH SUPERSTARS ONLINE PROSHOP
CLICK HERE TO ORDER!

---
2015 PROGRAM DATES
Supermodel HOT SHOTS camp
Fort Lauderdale (MANDATORY)
Travel day Sunday June 28th
Travel home day Wed July 1st after 4:30pm or Thursday morning.
Cost of Camp apx $100 per athlete and travel expenses.
Supermodels Choreography
July 17th-20th

Program Choreography
July 17th-24th​
---
*Updated pages 9&12
---
Contacts:
Aimee Saffle-Nicewarner
ansaffle1@gmail.com
(304) 838-1120
Cranberry Gym: (724) 591-5008
TJ Banas
banastj@yahoo.com
State College Gym: (412) 916-3591
Joey Takacs
wjt0733@yahoo.com
(740) 317-7987
Wheeling Gym: (304) 905-8221
Find us on Facebook!

GYM ADDRESSES:
Cranberry Gym:
405 Commerce Park Drive • Cranberry Twp., PA 16066 • (724) 591-5008
**DO NOT mail to the address!
State College Gym:
268 N. Main Street • Bellefonte, PA 16823 • (412) 916-3591
Wheeling Gym:
225 McColloch Street • Wheeling, WV 26003 • (304) 905-8221
---
Please mail ALL correspondence to the following address below:
Aimee Saffle-Nicewarner • 314 Butler Drive • Morgantown, WV 26508